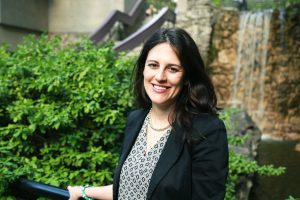 Dr. Blanc obtained her Bachelor of Science in Honours Science at the University of Waterloo. She then went on to graduate with a Doctorate of Optometry in 2001. Her studies at the University of Waterloo School of Optometry included a four month internship with a multi-disciplinary ophthalmological and optometric practice in Salt Lake City where she gained experience in ocular pathology and therapeutics.
Dr. Blanc has a particular interest in wellness approaches to eye health and workstation ergonomics; she enjoys finding solutions for patients to meet their individual work and lifestyle needs; and she values interacting with patients on topics of prentative eye care and education.
Dr. Blanc has worked in  private practices that cater to families, at executive medical centers, and in laser eye surgery settings (performing pre- and post-operative assessments, & counselling patients on risks / candidacy for surgery).