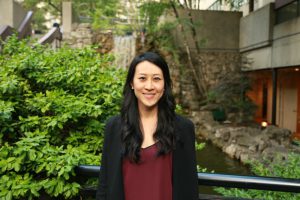 Dr. Jieun (Anna) Yoo graduated from Illinois College of Optometry with Doctor of Optometry.  Prior to this, she received her bachelor's degree in Biomedical Science from University of Waterloo.  She is certified to prescribe Therapeutic Pharmaceutical Agents (TPA) in Canada, and the Treatment and Management of Ocular Diseases (TMOD) in the US.
She completed an externship in Wenzhou, China focusing on ocular disease especially uveitis and cataracts.  Additional externships were at Lake City Veterans Affairs Hospital in Florida,  private practice in Colorado and at the Illinois Eye Institute; at these externships she assessed and diagnosed various ocular conditions, administered vision therapies, conducted pediatric exams, managed glaucoma patients and fitted complex contact lenses.
Dr. Yoo is fluent in written and spoken English and Korean.